Qualcomm Product Support Tools (QPST) is a Windows application used by technicians and developers to work with Qualcomm-based mobile devices. It can be used for various purposes, including firmware flashing, data backup, and device functionality testing.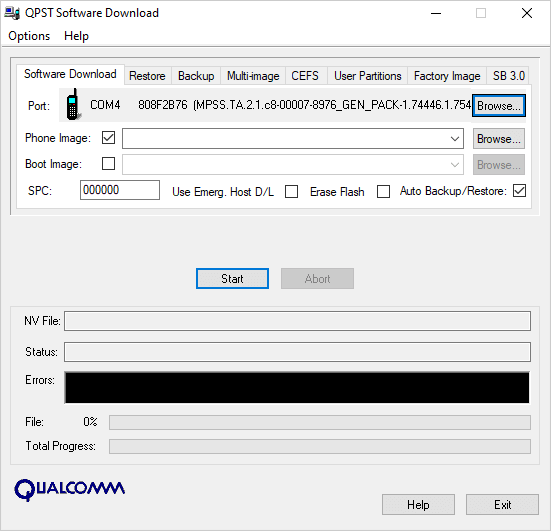 QPST Tool v2.7.438 for Windows
QPST Tool is a software tool that is used to flash firmware, repair IMEI, and unbrick Qualcomm smartphones. It is a powerful tool that can be used by advanced users and technicians to diagnose and troubleshoot Qualcomm devices.
Some of the Key features of the QPST Tool include:
Firmware flashing: QPST enables firmware and software flashing for Qualcomm-based devices. It is useful for updating software, fixing software-related issues, and modifying the OS.
IMEI and ESN management: QPST is a tool for managing device identifiers such as IMEI and ESN. This is crucial for activating devices on cellular networks and verifying their authenticity.
Service programming: QPST enables programming of settings and parameters on Qualcomm devices, including network and authentication details.
Backup and restore: Users can use QPST to create backups of device firmware and settings, which is essential for recovering devices and preserving data.
NV Items editing: QPST tool allows editing of critical configuration settings stored in NV memory on Qualcomm devices.
Device diagnostics: Technicians can use QPST diagnostic tools to troubleshoot hardware and software issues on Qualcomm devices, identifying problems with sensors, connectivity, network functionality, and more.
Download QPST Tool v2.7.438
| | |
| --- | --- |
| Name | QPST Tool v2.7.438 |
| Type | Flash Tool for Qualcomm Devices |
| Developer | Qualcomm Technologies, Inc |
| File Name | QPST_2.7.438.zip |
| File Size | 25.82 MB |
| Version | 2.7.438 |
| Supports | Microsoft Windows (32-bit and 64-bit) |
Frequently Asked Questions
What is QPST Tool v2.7.438?
The QPST tool allows users to fix malfunctioning Qualcomm devices by flashing stock or custom firmware when a software error occurs.
How do I install the QPST Tool v2.7.438?
You can install the QPST Tool v2.7.438 by downloading the .exe file and installing the flash tool on the Computer. The installation process is quite similar to the standard Windows Application.
How to use QPST Tool v2.7.438?
Boot the device into EDL mode, connect it to the computer, launch the QPST Tool, load the Firmware into the Flash tool, and click the Flash button to begin flashing. Alternatively, you can follow the instructions on How to use QPST Tool to install Firmware.
Is QPST Tool v2.7.438 Free?
The QPST Tool v2.7.438 is an official release from the Qualcomm community, specifically designed for Qualcomm mobile users and available for free.
Is QPST Tool v2.7.438 Safe?
The QPST Tool v2.7.438 is officially released by the Qualcomm community, ensuring safety and security when used on computers, laptops, and Qualcomm mobiles.
Where Can I find Qualcomm Driver?
If you are looking for the original USB Driver compatible with QPST Tool, then head over to the Qualcomm Driver page.